Welcome to
The Oaks Hotel & Suites
Enjoy the local flavor – and delicious flavors – of wine country during your stay at the Oaks Hotel & Suites. Located on the Central Coast, this city is rich in history against a backdrop of vineyards, ranches, farms, and olive orchards that inspire its culture. Paso is as warm and welcoming as its residents, and its vibrant reputation and attitude distinguish itself as a unique Californian gem. From outdoor recreation to arts and culture to culinary adventures, relax and rejuvenate in the spirit of Paso at The Oaks Hotel & Suites.
The Oaks Hotel & Suites works hard to be a step above the rest by offering our guests with affordable luxury. Our around-the-clock front desk will be waiting to greet you with a smile on their faces from the moment you walk into our lobby. We have a wide selection of spacious and elegant rooms with modern furnishings, upscale amenities, and tasteful designs. We also have numerous property features for guest pleasure, including a seasonal outdoor pool, bar and lounge, and meeting center. At the Oaks Hotel & Suites, we are continuously upgrading and improving our services, from our local wine selection to new green improvements to recently installed electric vehicle chargers. Whether you're visiting for pleasure or business, the Oaks Hotel & Suites will not disappoint!
Located in central Paso Robles, The Oak's Hotel & Suite's Location is difficult to beat! Our property is within walking distance to many of the city's most famous attractions and up-scale restaurants. While the area's exquisite wineries are undeniably a hotspot for tourists, Paso Robles has so much more to offer. Stop by one of its various museums, catch a show at its amphitheater, enjoy a thermal therapy session in a hot spring, embark on a nature trail, and more!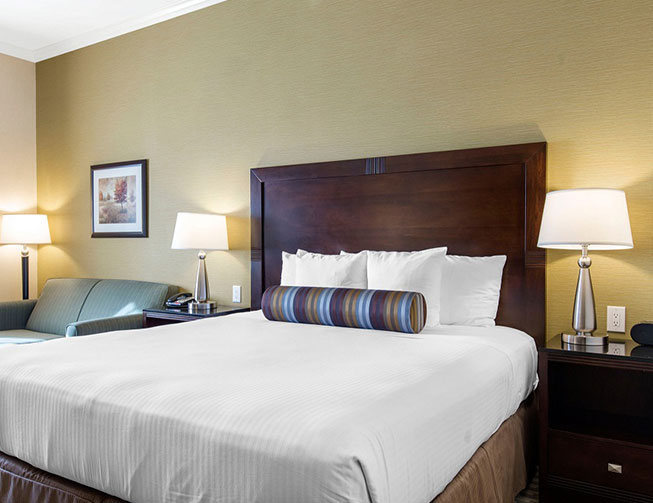 Surround yourself in style
at

The Oaks Hotel & Suites

Each guest room at The Oaks Hotel & Suites captures the urban flair that is unique to Paso Robles. Unwind while surrounded with modern décor and a host of lifestyle amenities that are sure to enhance your stay. The Oaks Hotel & Suites offers a selection of 90 spacious rooms and suites, so guests are sure to find an ideal fit for a perfect Paso Robles getaway.
Subscribe
Sign Up for our mailing list